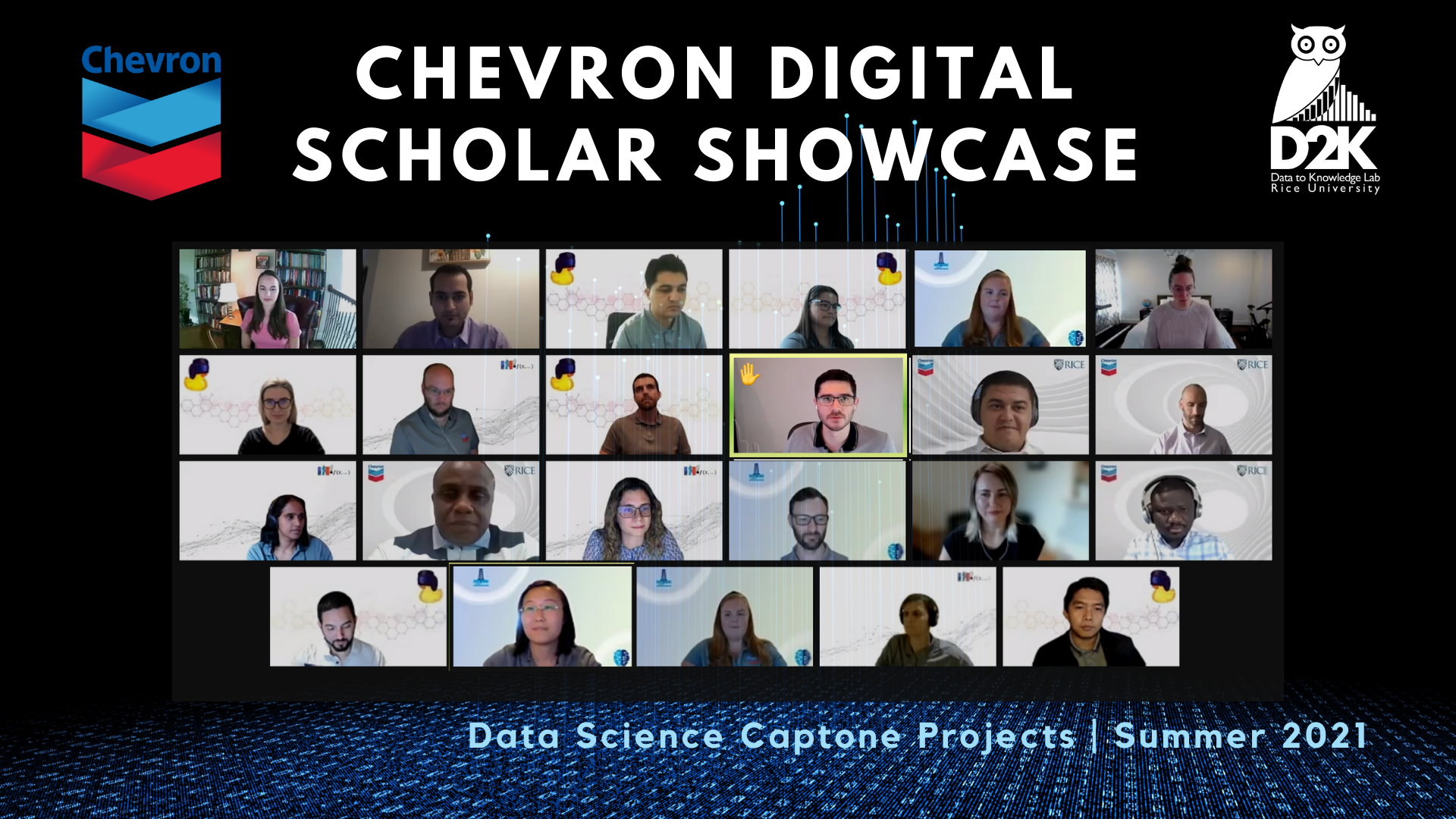 Bridging Academia with Industry in Digital Transformation
In partnership with Chevron and the D2K Lab, Rice Master of Computer Science students - Chevron Digital Scholars highlight the skills they have learned throughout the program by working on interdisciplinary teams to solve real-world data science challenges. Come celebrate their hard work, learn more about their data science projects, and ask questions in this interactive virtual Showcase.
Agenda | 2:30P – 4:00P (CST) Wednesday, August 11th
Welcome to the Showcase and Introduction from Dr. Scott Rixner (Rice Computer Science) and Frank Cassulo (Chevron)
Introduction to the D2K Capstone from Dr. Genevera Allen and Dr. Arko Barman (Rice D2K Lab)
Team presentations followed by Q&A
Vote on your favorite project and student team!
Announcement of the Audience Choice Award – Dr. Arko Barman
Celebration and Closing Remarks from Dr. Chris Jermaine (Rice Computer Science) and Chris Powers (Chevron)
About: Chevron sponsors their digital scholars to pursue full-time Master's degree in Computer Science with a focus on data science at Rice University. The goal is to help accelerate Chevron's digital transformation.
---
List of Projects and Team Members:
Team 1
Project Title: Insights and Quantification of Parent-Child Relationships in Permian Unconventionals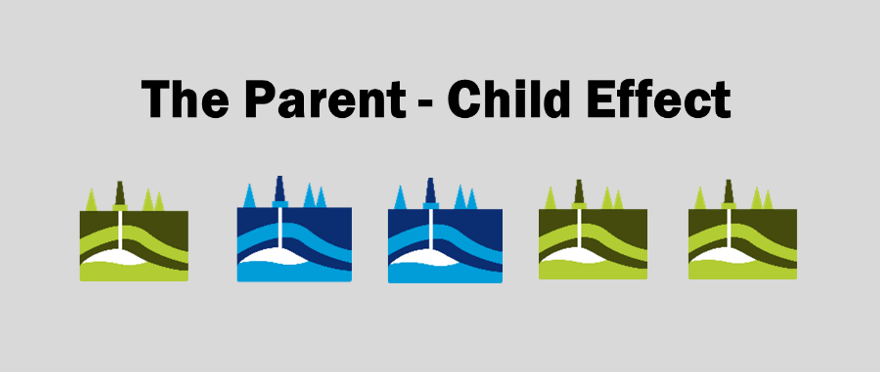 The objective of our project is to estimate the impact of the 'parent-child effect' in the Permian Region. The 'parent-child effect' can occur when operators drill new wells (children) amongst existing wells (parents), often resulting in lower reservoir pressure and ultimately lower production for the child wells.
Using regression models, our project aims to quantify and explain the 'parent-child effect'. These insights may help Chevron to make better development decisions in the region and increase their return on investment.
Chevron Project Mentors: Jitendra Mohan, Elliott Riege, and Gerardo 'Jerry' Jimenez.
Chevron Scholars:
Leanah Heather
Yolanda Hu
Simon Illich
Lauran McCormick
Samuel Webb
---
Team 2
Project Title: Automatic Detection of Weld Anomalies through Non-Destructive Examination Radiography
Welding is the primary means of pipe and equipment fabrication in the oil and gas industry, and thorough weld inspection is required by law to prevent potentially catastrophic failures. One of the most common means of inspection is radiography, where weld x-rays are reviewed by trained specialists for the presence of anomalies. However, during peak construction and maintenance period, they may be reviewing hundreds of images a day. Our team partnered with Chevron to develop machine learning models that can assist inspectors with prioritizing images for review and potentially reduce human error.
Chevron Project Mentors: Mike Sens, Mauricio Calva, Jarred Sharp, Oliver Wilson, Jacob Gleason, and Hector Chacon.
Chevron Scholars:
Michael Eusebio
Jessica Keener
Sanjar Rasuly
Daniel Sauceda
James Schneider
Svetlana Tretyakova
---
Team 3
Project Title: A Data-driven Approach to Identifying Physics-based Pi-degradation Models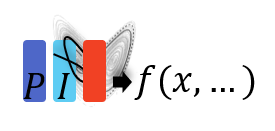 The productivity index (PI) indicates how strongly a well is producing and is used to forecast production. Extraction of fluid changes physical properties in the reservoir and leads to PI degradation. Our objective is to improve PI prediction for Chevron by discovering a single physical equation to represent PI degradation. We modeled PI as a dynamical system using the Sparse Identification of Nonlinear Dynamics (SINDy) methodology and compared the method with linear regression and artificial neural network PI models.
Chevron Project Mentors: Babafemi Ogunyomi, Karim Zaki, Andrew Patin, Jianping Chen, and Ricardo Combellas.
Chevron Scholars:
Sawyer Broussard
Guillaume Dulac
Frazer Robertson
Anusha Sekar
Allison Teletzke
---
Team 4
Project Title: A Systems-Based Approach to Oil & Gas Area Development Strategy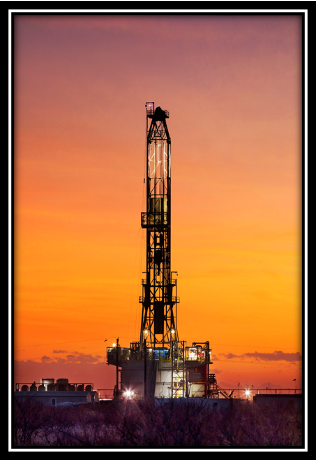 This project, in partnership with Chevron, leverages machine learning to optimize design parameters for an onshore oil and gas area development strategy. We develop two regression models to predict an oil wells' initial production rate and its installation cost. When analyzed together, the models will allow Chevron to select design strategies to simultaneously maximize a well's initial production rates while minimizing its installation cost.
Chevron Project Mentors: Brandon Baylor and Oliver Wilson.
Chevron Scholars:
Mikail Adekunle
Rory Chalmers
Travis Clark
Chijioke Ibeh
Miguel Saldana
---
Audience Choice Award
Vote on your favorite project and team for the Audience Choice Award.
(Poll ends at 3:40 pm Central Time on August 11, 2021.)
---