Collaborative Partnership
In the Data Science Capstone program, Rice students and faculty work with real-world data science challenges such as helping businesses to tackle messy data, providing faster ways for doctors to detect heart diseases, and predicting environmental impacts during the pandemic. We have partnered with a variety of industries, organizations and researchers to use data science to solve societal problems. With a sponsored research agreement, sponsors will own any resulting Intellectual Property (IP).
Industrial and Societal Impact
Student teams in the Capstone program utilize machine learning and other advanced data science tools to make a real-world impact. At the end of the semester, students will present their work and compete in the D2K Showcase. The projects that students and sponsors worked on in the most recent semester included using data science tools to tackle the impact of COVID-19 on emergency medical services; increasing the detection rate for life-threatening heart disease; detecting anomalies from enormous amounts of data for companies, and bridging the academic performance gap in remote learning. Learn more about our impact >>
The Next Generation of Data Scientists
The D2K Lab aims to educate, nurture, and prepare the next generation of data science professionals. Businesses, organizations and our community need interdisciplinary talent who have both the technical and soft skills to transform data into actionable knowledge. The Data Science Capstone program provides an excellent opportunity for students and potential employers to connect and work on projects. After one or two semesters of collaboration, companies are more likely to continue working with our students through an internship or offer a full-time position after graduation.
"The D2K Lab students showed curiosity in learning a new discipline while excelling in applying cutting edge data science methods to financial time series data. The students' passion for solving problems using data science techniques helped develop new features that were incorporated into simpler models to find more robust solutions." - Dr. Andrew Wendorff, quantitative analyst at Belvedere Trading, LLC.
What to expect in the D2K Data Science Capstone?
Teams of 4-6 students come from a variety of disciplines and experience levels (advanced undergraduates and graduate students).
Teams are co-mentored by a sponsor mentor, D2K Fellows, and Rice data science faculty.
Teams produce a data science report and deliver all software and scripts used in the report.
Teams will exclusively use open-source software such as R and Python.
What types of projects will be used as in the capstone program?
Impactful projects that are meaningful and motivating for the students, and solve real-world challenges for the sponsors.
Projects should be challenging and have well-defined objectives.
Projects should encompass all aspects of data science including data wrangling, data exploration and modeling.
What are the sponsorship levels and benefits?
To sponsor a capstone project and connect with Rice data science students, join our membership program and enjoy all the benefits exclusive to the D2K members. The Affiliate Level and up will give you access to sponsor one Capstone project for free along with discounted sponsorship of data science events across the Rice campus.
Here is a list of D2K Membership levels and their exclusive benefits:
Associate - $10,000 (Engage and Connect)

At the Associate level, members engage with Rice data science and computational students. The D2K Lab promotes intentional and impactful collaboration by bringing together students, faculty and community experts with resources and enrichment opportunities that translate into actionable results.

Investment in the D2K Lab's mission.
Branding on the D2K Lab website and membership listing.
Inclusion in Data Owls, a weekly digest of jobs, internships, and announcements.
Member discounts on networking and event opportunities.
Recruitment opportunities with talented data science and machine learning students.
Connect with Rice students and faculty as a judge or mentor at D2K Lab events.
Level one sponsorship of HackRice ($1,000 value) and the Rice Datathon ($1,000 value) included.
Complimentary parking at D2K Lab events.
Rice D2K Lab gift.

Affiliate – 25,000 (Access and Engagement)

At the Affiliate level, members are given access to one D2K data science capstone and discounted sponsorship of data science events across the Rice campus. The D2K capstone teams work on sponsor defined data science projects that are co-mentored by the sponsor and a Rice data science faculty mentor. The teams produce a research or data analysis report along with accompanying software and the resulting IP is owned by the sponsor.

All Associate benefits, plus:

Fee included for one D2K Capstone project ($15,000 value).
Sponsor a D2K undergraduate team (no fee).
Invitation to be a speaker at the D2K Industry Insights Seminar Series.
Level 2 sponsorship of HackRice ($2,500 value) and the Rice Datathon included ($2,500 value).
Secure access to the D2K Showcase presentations.

Advisor – $50,000 (Enrichment and Excellence)

At the Advisor level, members are given premier access to a D2K Capstone and sponsorship of the Rice Datathon, HackRice and other data science events across the Rice campus. We are using data to drive knowledge.

All Affiliate benefits, plus:

Fee included for a year long, two semester data science capstone course.
Access for three people to attend a faculty review of your final capstone report.
Named sponsor of a D2K student award.
Included sponsorship of HackRice ($5,000 value) and the Rice Datathon ($2,500 value).

Partner – $75,000 (Engagement, Recruitment and Impact)

At the Partner level, members are involved at the highest level of engagement with data science and computational students, access to student recruitment and networking events and your company branding for the greatest membership benefit impact.

All Advisor benefits, plus:

High visibility branding at a major D2K event or program as the presenting sponsor.
Private briefing to connect with data science faculty and students.
Named sponsor of a D2K Fellow.
Premier sponsorship of HackRice ($7,500 value) and the Rice Datathon ($5,000 value).
Highlights of the D2K Capstone Projects: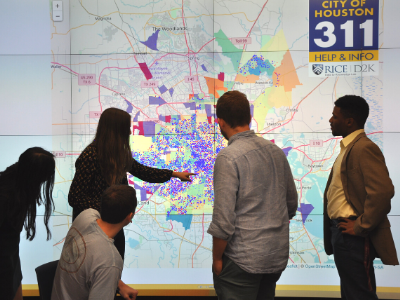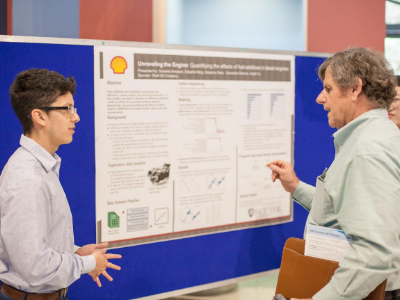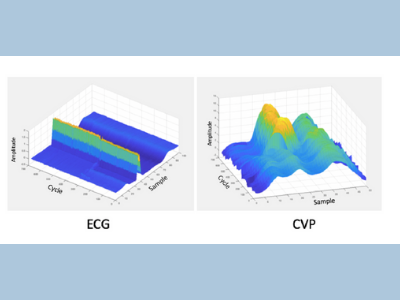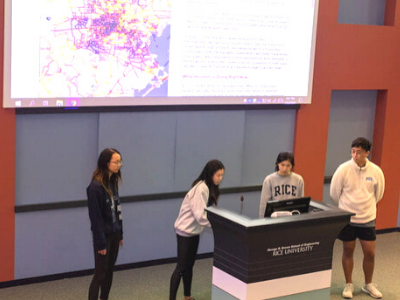 Recent Stories:
An Automated Early Warning System to Help Doctors Save Babies
Closing the Gap: A data science approach to reducing academic achievement gaps
Rising to the Challenge: Rice D2K Lab students utilize machine learning to tackle real-world data science challenges
If you have additional questions about the Data Science Capstone program, check out the Frequently Asked Questions or email us at d2k@rice.edu.