The highly anticipated Rice Datathon returned in a hybrid in-person and virtual format on January 28 and 29, 2022. The 24 hour data science competition and networking event was the largest to date with over 450 registered students and over $18,000 in prizes awarded. Students hailed from Rice University, Texas Southern University, Prairie View A&M and the University of Houston to test their skills on applied challenges and network with sponsoring companies.
Company sponsorship supported great prizes, food, and challenge tracks for students to test their data science and computational skills. Sponsors included Bill.com as the presenting sponsor, Goldman Sachs, Google, Aimpoint Digital, Chevron, Medical Informatics Corp., Teknoir, BakerRipley, Cognite and Shell. The event was organized by the Rice Datasci Club and the Data to Knowledge (D2K) Lab.
Students were excited to attend in person or virtually, form teams, and connect with data science students, alumni and companies. "We are sharing this great data science community we have here at Rice. We had a huge increase in participation this year, which was amazing," said Michael Kelley (2023, Statistics), Datathon Co-Director.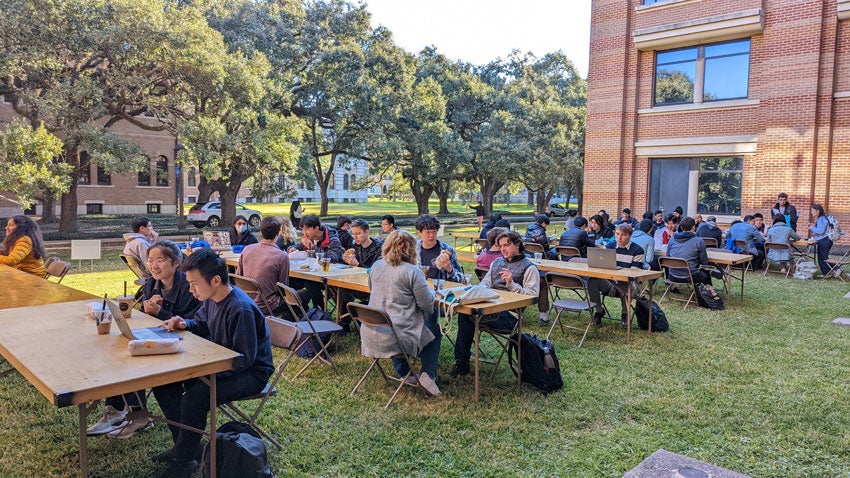 "It was really great to have an in-person presence again and expand the Datathon to as many people as possible," said Datathon Co-Director Gazi Fuad (2024, Statistics and Mathematical Economics). "We expanded access to underrepresented communities in STEM, and in data science, specifically. We partnered with Google to help integrate Texas Southern University and Prairie View A&M students, two HBCUs in the Houston area, into the Datathon."
Among the 47 final projects submitted for judging, over half of them were from underclassmen. A goal of the competition was to be accessible to students of all levels, especially beginners who had just started their data science journey.
A beginner workshop and two technical workshops from bill.com and Google were held leading up to the Datathon to help students prepare for the competition.
Data science mentors including PhD students, faculty and company sponsors provided in-person and online support throughout the 24-hour event. Many Rice alumni attended the events and served as sponsors, judges and mentors.
"Bill.com is super excited to host a challenge in this year's Rice Datathon," said Stefano Romano ('20 Statistics & Mathematical Economic Analysis), Machine Learning Engineer at bill.com. "We had a whole bunch of awesome submissions including everything from NLP techniques to deep learning to graph neural networks. We were really impressed with some of the approaches that we saw from students."
Datathon Co-Director Caleb Huang (2024, Social Policy Analysis) spoke highly of participants' "passions and energy", and "drive to explore what it means to apply data science" to real-world challenges. "It was a humbling and honoring experience to host the Datathon, and we hope this is the beginning of your data science adventures."
Genevera Allen, founder and faculty director of the D2K Lab said, "The Rice Datathon Co-Directors did a fantastic job organizing the largest Datathon to date under challenging circumstances".
Prizes and Winners
A total of $18,891 in cash prizes, sponsor prizes, raffles and books were given to students this year, which made it the most awarded Rice Datathon to date, thanks to all of the company sponsors. See a full list of winning teams here.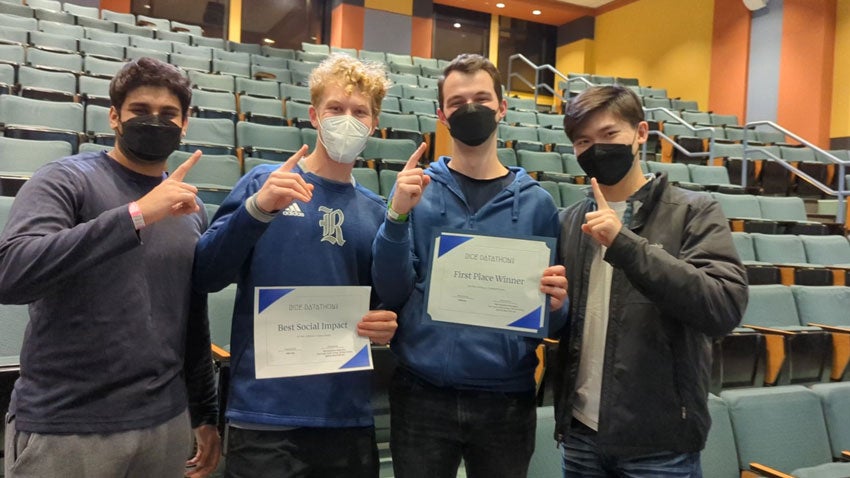 The overall Datathon 2022 winner was "BakerRipley Challenge: Houston Redistricting". A team of 4 Rice undergraduate juniors, Ankit Patel (Statistics, minor in Classical Civilizations), Quan Le (Computer Science, Computational and Applied Mathematics, Mathematics), Nathan Powell (Computer Science), and Zach Rewolinski (Computer Science) used optimization and Markov Chain Monte Carlo techniques to determine the optimal voting districts that were representative and fair across racial groups and other demographics.
"We've learned what a full data science project was like, especially with geospatial data," said Ankit Patel. "We had a lot of fun addressing a social issue, Houston Redistricting, that we thought was very important and we'd make a positive impact on it."
Their project also won the Best Social Impact category.
Watch their video presentation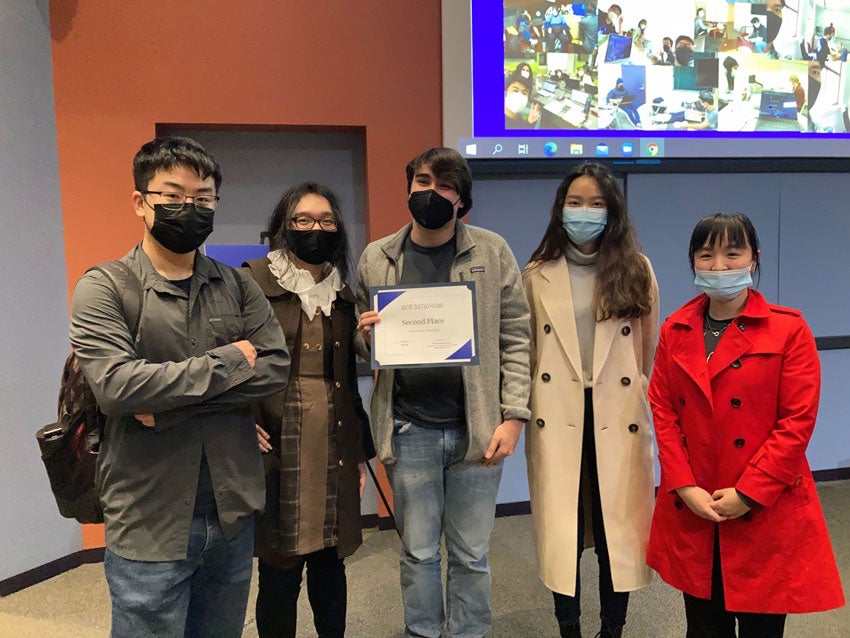 Bill.com Challenge: Link & Recommendation won second place in the overall competition. Team members are 4 Rice graduate students: Yun Sun, Haijiao Lu, Tianjian (Tom) Sun from the Master of Statistics program, and Yuhan Yang from the Master of Computer Science program. The goal of the challenge was to create a model that predicted whether two pages link together utilizing graph data. Students built a Graphical User Interface (GUI) with edge prediction, node recommendation, and received high accuracy in validation and test data.
Watch their video presentation:
Third place went to Team "Oh, Well." who also won first place in the Chevron Challenge. The goal of the Chevron challenge was to use historic drilling data to build a model that can predict the rate of penetration conditional on controllable drilling parameters. Rice junior Katelynn Salmon (Statistics), Rice sophomores, Talia Frindell (Computer Science), Gail Oudekerk (Statistics, Social Policy Analysis) and Natasha Patnaik (Economics/Mathematical Economic Analysis, Operations Research) explored multiple regression models to test out scoring data and generate predictions on the drilling parameters.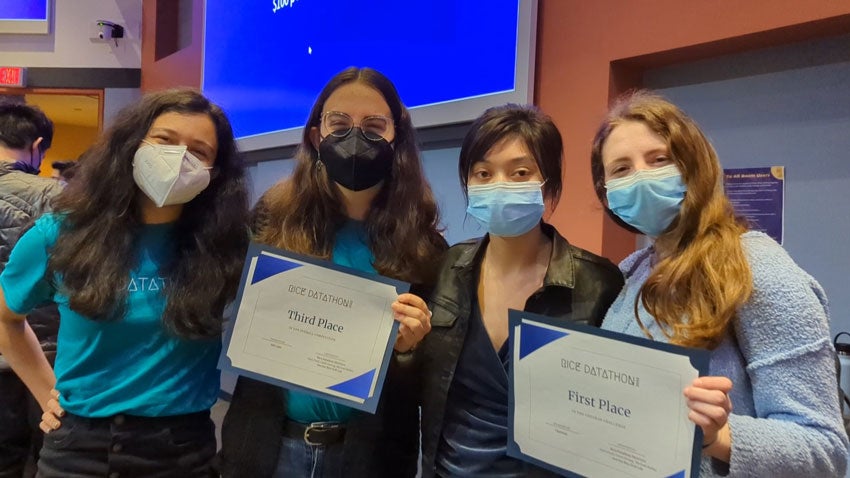 Watch their video presentation
See a full list of Winners in the overall competition and company-sponsored individual challenges
- Shanna Jin, Marketing and Communications Specialist, the Rice D2K Lab