Customer acquisition and user experience are key metrics for startups, companies and financial institutions. Data science allows businesses to gain insights from user interactive data, such as unstructured texts from customer service chats and surveys. Two of the Data to Knowledge Lab's Spring 2021 Capstone teams aim to help businesses gain these insights and ultimately improve customer experience.
Project #1 - Data Science Meet Emotion: Increasing Empathy in Customer Service Interactions Using Natural Language Processing
This project aims to build a model which predicts a real-time probability that a customer will have a positive experience during live customer support chats. To achieve that, five Rice students named the CS Chats team performed sentiment analysis and topic modeling with the data sets provided by D2K Affiliate member Bill.com.
Team members are Rice Computer Science undergraduate students, Daniel Tang ('21), Ray William ('22), and Berk Alp Yakici ('22); Jacky Li (Masters, Computer Science); and Chris McCarthy (Statistics, Mathematical Economic Analysis '21).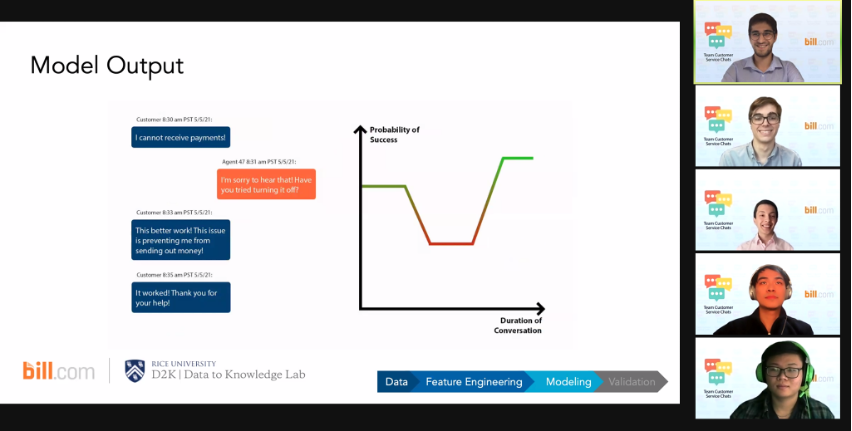 (Team CS Chats won the Honorable Mention at the end of semester Spring 2021 D2K Showcase. From top: Berk Alp Yakici, Chris McCarthy, Ray William, Jacky Li, and Daniel Tang.)
The goal of the project is to predict customer service chat outcomes in real time. A major challenge is that this is relatively under-studied in academic literature. "It was hard at first to know where to start, but the team had a lot of fun getting creative with our solutions and actually ended up drawing inspiration from real-time eSports match prediction," Ray William said. "That was actually one of my favorite parts of the project: the unconventional wisdom of applying lessons learned in eSports to do something new in the customer service domain."
"Natural Language Processing (NLP) is something we do not necessarily learn in core classes, but it's a huge topic with a lot of applications," said Berk Alp Yakici. Combining the literature reviews suggested by D2K faculty mentors with machine learning modeling techniques, the team came up with an effective model that worked well for their project.
Project #2 - The Bill.com Positive Feedback Cycle: Using Customer Feedback to Understand User Pain Points.
The goal of the customer feedback project is to build data science tools to help the product management team at Bill.com understand what types of users like and dislike the product.
Students of the Customer Feedback team include Christopher Lee (Computer Science '22), Michael Price (Statistics '21), Xin Hao (Computer Science '22), Yang Mi (Masters, Computer Science), and Lily Liu (Computer Science, Computational and Applied Mathematics, and Mathematics '21).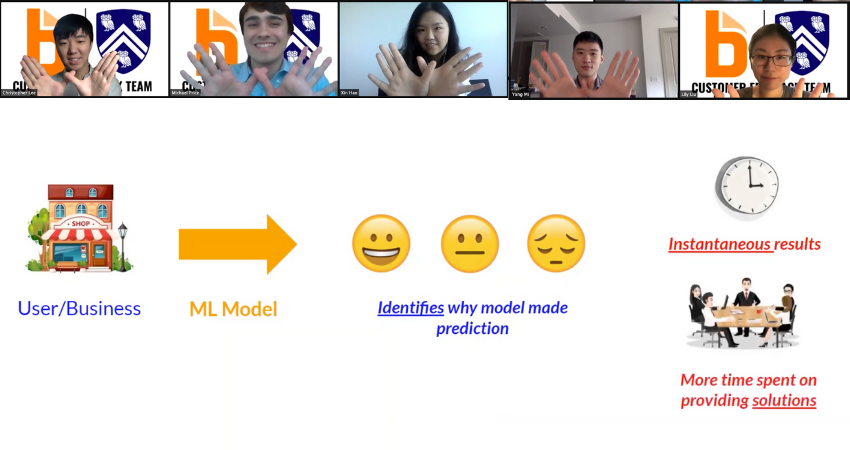 Bill.com provides accounting management software to small and medium-sized businesses. Their product management team collects information about customer satisfaction through thousands of customer surveys every month. So how can the company make informed decisions more efficiently based on the surveys?
The student team created a machine learning model that predicted what rating a user would leave on a survey. Then, they built a model that automatically categorized comments into pre-defined tags, which would allow the product management team to review completed surveys in seconds.
Outcomes and Impact
Stefano Romano, Machine Learning Engineer at Bill.com, sponsor mentor and Rice alumnus of the D2K Capstone program, shared that Rice students implemented new Natural Language Processing and Deep Learning techniques to help streamline Bill.com's customer support and feedback processes.
"The two student teams we worked with this semester drove a measurable impact in both the Product Analytics and Customer Success departments at Bill.com," said Romano. "We look forward to integrating the students' innovative algorithms into our workflows and continuing our long-standing relationship with Rice D2K Lab."

Rice alumna Han Shi, Software Engineer at Bill.com, who has mentored the Capstone projects twice, commented that Team CS Chats and Team Customer Feedback both showed great interest in working with complex real-world data.
"We hold a weekly meeting with the students and faculty mentors Dr. Su Chen and Dr. Arko Barman to discuss the projects in more depth," Shi shared. "The students' innovative thinking and abundant engineering capability broadened my horizons from different perspectives. The projects they have worked on will become an important part of Bill.com and further improve our user experience!"
Watch the video highlight of these two capstone projects:
Bill.com CS Chats Team
Bill.com Customer Feedback Team
Interested in getting involved with the D2K Capstone and other data science programs?