Rice DataSci Club (RDS) is one of the largest student clubs for undergrads to study and practice data science at Rice University. As classes moved online and no large-scale activities allowed on campus, it has been challenging to plan student events during the pandemic. RDS officers, however, have been working hard and brainstorming ways to keep their members engaged. During the Fall 2020 recruiting season, many students have concerns about how campus recruitment and the job market will be affected. To help their members better connect with companies, RDS teamed up with the Data to Knowledge (D2K) Lab and hosted a Virtual Data Science Career Mixer where students had the opportunity to interact with companies online and explore career options in various industries. "We are all about building a community, providing the community the technical skills and professional connections to succeed in data science," said Cole Morgan ('21 Statistics), President of the Rice Data Science Club.
In addition to the career mixer, RDS also hosts a technical workshop series, Data Exploration and Experiential Projects (DEEP). "DEEP is our semester-long program in the fall where students work in teams to analyze a real-life dataset. Each team has a mentor to guide them through the entire data science pipeline," said Melinda Ding ('21 Computer Science), Internal Vice President of RDS. "At the end of the DEEP, students will understand what data science is, gain data science coding skills, and have a cool project to showcase."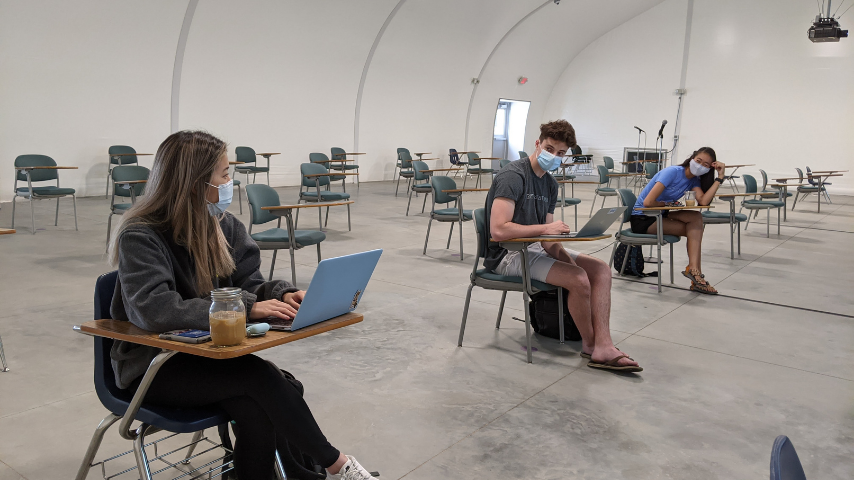 (Picture was taken before the DEEP workshop at the Rice University's Provisional Campus Facilities.)
Another major event organized by Rice DataSci Club is the annual Rice Datathon when hundreds of students come together from different schools to participate in this 24-hour competition. "It's a great opportunity for students to get real hands-on experience with data science. Make sure to check out this year's Rice Datathon, which is coming up in February 2021. It will be a hybrid delivery with tons of fun, lots of companies and great challenges," said Emily Wang ('21 Statistics and Mathematical Economic Analysis), External Vice President of RDS.
The Rice Data Science community stay close to each other even after the members have graduated. Alumni share advice and career opportunities with the current members. "Most of the former RDS members have gone into the industry in data science or taken on software engineering roles. But really, what we are seeing is that data science is through all things," Cole mentioned. "Personally I'm going into consulting but I still heavily rely on my data science background to succeed in this field. The way of thinking about data is so important to the corporate world as well as academia and research."
Watch the video interview with the Rice DataSci officers and hear about the benefits of joining the RDS community:
To learn more about the Rice Data Science Club, you can visit the RDS website, follow their Facebook page, and join their listserv to get involved.