In light of recent escalation of attacks and hate crimes against minorities, BRIDGE (Building Research on Inequality and Diversity to Grow Equity) at Rice University has initiated the Systemic Racism & Racial Inequality Seed Grant to explore racial inequalities and racism.
Rice D2K Lab's teaching professors, Arko Barman and Su Chen, and assistant professor Brielle Bryan (Department of Sociology), have been awarded $50,000 for their project titled "Systemic Racial Biases in Traffic Stops & Their Financial Impact on Persons of Color." 
When Data Science Meets Sociology
Dr. Barman, Dr. Chen, Dr. Bryan, and their research team will use statistical tools and machine learning methods to perform critical analyses, such as:
How racial biases affect decision-making on whether a driver receives a citation versus a warning from a traffic stop;
If demographic diversity in police departments helps alleviate racial biases;
Financial impact on persons of color due to racially-biased decision making in traffic stops.
"I was looking for collaborators in the social sciences who work in the domain of systemic biases and discrimination and got in touch with Dr. Bryan in Sociology, who is a co-PI along with Dr. Chen," said Barman. "We have already done some preliminary analyses which give us evidence for racial discrimination."
They analyzed the data from nearly 27 million traffic stops made by the Texas state patrol between 2006-2017 and observed that people of color are about 41-42% likely to get a citation from a traffic stop while the same number for white people is significantly less (about 34%).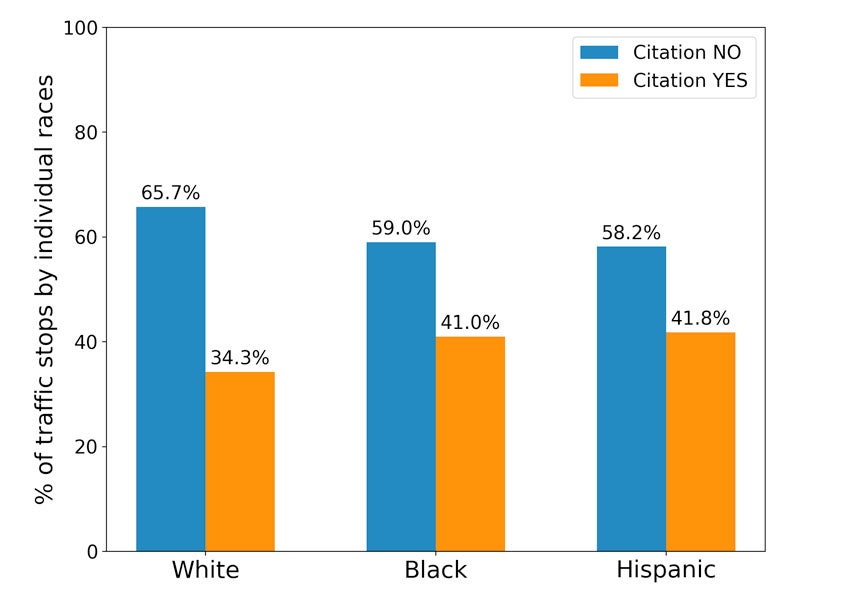 "In recent times, there have been several cases of traffic stops gone wrong, possibly due to systemic racial biases, e.g., Daunte Wright, Sandra Bland, and Philando Castille," said Barman. "My wife and I were victims of racially-biased policing during a traffic stop back in 2015. I had been thinking of doing analysis regarding this data for several years, and I have finally found this opportunity!"
Experiential Learning Opportunity for Students
Students interested in applying data science to real-world systemic biases and problems will have the opportunity to participate in the research. "We will hire Rice students to work on this project. The funds from this grant will allow us to hire three students for three years (1 student each year) to work part-time over the long semesters," Barman shared.
Nicole Tan, a senior studying Computer Science (CS) and Electrical and Computer Engineering (ECE), is currently working on the project this semester. Coming from a CS/ECE background, she has learned how to balance using different statistical methods with the computing power needed for large datasets.
"I was drawn to the project because it allowed me to use my STEM background to talk about racial biases and inequalities, a topic that usually isn't discussed academically in my classes," Tan said. "This project allows me to apply my technical knowledge to a problem that I'm passionate about, while also helping me grow my skills in data science."
-------------------------------
The Rice Data to Knowledge (D2K) Lab is a hub for interdisciplinary data science education. Our students and faculty welcome the opportunity to work with complex, real-world data sets and make an impact through data science. If you have a research or project to collaborate on or if you would like to sponsor a D2K impact project, please contact us at d2k@rice.edu.