With the goal to facilitate digital transformation, Chevron sponsored its first cohort of 21 Digital Scholars to pursue a full-time Master in Computer Science degree at Rice University, with a concentration in data science and machine learning. As a culmination of the program, scholars applied both the technical and practical skills in the D2K Capstone course to solve real-world open-ended challenges in the energy industry.
What is so unique about the D2K Capstone course?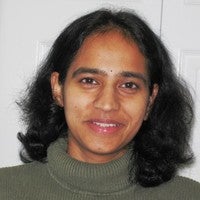 Digital Scholar, Anusha Sekar, Research Geophysicist at Chevron shared her experience with the D2K Lab.
What is your academic and professional background?
I have a Ph.D. in applied mathematics and I work in geophysics R&D at Chevron. My team at Chevron's main focus is improved imaging of the earth's subsurface structure to better aid  hydrocarbon exploration. My research interests are primarily in optimization and inverse problems, which is what drew me to machine learning and data science in the first place.
How was your capstone experience and what was the project you worked on?
The most exciting part of the capstone course was the capstone project itself! Our team was challenged with finding an equation to describe the physics behind productivity decline in a reservoir. This is a complex problem as it is influenced by several static geomechanical properties of a well and dynamic production parameters.
What did you find challenging in the capstone course?
One of the unique things about our particular project was that we set ourselves a pretty difficult goal – we wanted to discover physics from the data, like discovering Newton's laws of motion by just observing and recording a pendulum's movements. There seems to be a lot of interest in many traditional physics-based fields in this problem.
What is it like working within an interdisciplinary team?
We had a great team. To quote one of my teammates - we were all reliable without a fault.  We had amazing camaraderie within our group. Although we were all from Chevron, none of us had met before the program and we enjoyed working together on this project.
Our team was pretty diverse in our technical backgrounds. We had a geologist, two geophysicists and two petroleum engineers, some with more experience in R&D, some with more experience in fieldwork. These may seem very similar to an outsider, but they are different as night and day when you get closer to it. So we were each able to leverage our diverse skills and support each other throughout the project.
What do you look forward to with the newly earned degree?
The capstone made me realize that while it seems like machine learning has solved a lot of the "easy wins", there are still a lot of open questions about the projects that we can solve with data science and ML, and there may be hybrid physics + ML approaches that are needed. I look forward to working on more machine learning projects within Chevron.
To learn more about the scholars' capstone projects, visit the Chevron Digital Scholar Showcase.
Want to upskill your professional career in data science, machine learning and analytics? Visit the Rice Master of Data Science website to learn more.
If you are interested in how the capstone program can benefit your company and organization, contact us at d2k@rice.edu for more information.